Transporting around Peru is fairly safe and easy, especially compared to some of its South American neighbours.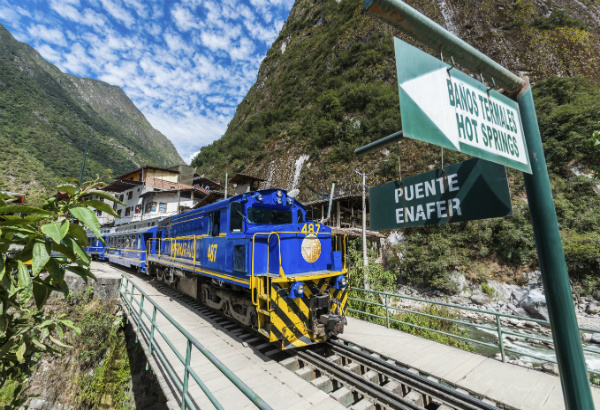 However rugged terrain, unpredictable weather, dodgy operators and criminals can still throw a spanner in the works if you're not careful.
Here are some tips to make sure your journeys are an experience, not a chore.
(Note: the Inca Trail closes every year in February for one week of maintenance)
Peru bus services
Reliable service, low fares and a comprehensive network of routes mean bus is the preferred way to get around Peru for locals and tourists alike.
The quality of the vehicles generally corresponds to the popularity of the destination. Luxury coaches run the long-range trips, often offering onboard entertainment and meals, while worn out ex-US school buses and hair-raisingly reckless collectivos ply the local and rural routes.
(iamge: Chanatrek. Definitely a white-knuckle ride)
The buses are relatively punctual, although those running on mountainous and rural roads can experience delays due to punctures, breakdowns and landslides.
Because bus is the standard transport for Peruvians, depots can be found in the centre of almost any town, offering impressively regular services. However a bus company's ticket office and its departure point aren't always the same place.
Arequipa is one notable example. Lima has an overload of bus companies, some of which have their own private terminals away from the congestion in the city's centre. Make sure you check where your bus leaves from. It should be on the ticket but ask the vendor just in case.
Like most things in Peru, bus fares are negotiable and you can assume the ticket prices have been hiked for tourists, especially if you're buying through an agent.
It's worth shopping around for a deal, although if you're on a tight deadline it's best to stick with the major companies which tend to stick a little coser to schedule. Cruz del Sur, Ormeo and Flores are good if you're heading south of Lima or hugging the coast. La Linea and Movil are reliable choices for the north of the country.
Sometimes smaller bus companies sell their tickets out of bigger companies offices, which won't be made apparent when you make your purchase. Again, it should be printed on the ticket but make a point of asking the vendor otherwise you could end up paying for a luxury ticket only to find yourself on a crusty old coach.
With the amount of buses zooming in and out of most terminals it's also important to know what company name and markings to look out for, otherwise your bus is likely to come and go without you knowing.
At most intercity terminals you'll have to pay a small departure tax before you can board your bus. Follow the tarifa signs to find the booth where your ticket will be stamped.
(Arequipa terminal. Why are they all so damn uncomfortable?)
Bus terminals are notorious hangouts for thieves. Never leave your baggage unattended, even for a second, and keep your valuables close to you. Once you place your suitcase or rucksack in the baggage compartment, it's beyond your control so make sure your valuables come onto the bus with you. You'll need your passport as well, in case you're passing through any security checkpoints or borders. Anything you'd like to keep should be stashed on your lap or under your feet, not in the unsecure overhead locker.
In the past buses have been targeted by roaming bandits and rebels. Although these attacks are now very rare, the pattern of attacks shows the risk is highest when travelling in the isolated north of the country, where the remaining rebels are concentrated. Drug traffic along the Colombian border also marks this as a high risk area.
In general, overnight bus journeys are perfectly safe but should be avoided in the north. Some of the smaller bus companies will stop to pick up passengers outside of the terminals along the route, which also increases the risk of robbery, so don't forget your travel insurance!
Avoid sitting over the wheels on long trips if you don't want your teeth to be rattled out of your head. Young livestock is sometimes transported on rural buses. Don't sit by the baby llamas. No matter how cute they are, your affection is sure to wear thin after 16 smelly hours of bleating,
Train travel in Peru
Given Peru's largely mountainous terrain, train isn't a particularly practical way to travel but it is rather spetacular.
(I think I can, I think I can...)
There are two main lines, the Central Railway (Tren de la Sierra) and the Southern Railway (Ferrocarriles del Sur del Peru). Both are engineering marvels, achieving the impressive technical feat of crossing the Andes. The Central Railway peaks at a whopping 4835m above sea level.
The railways offer an enticing experience, steaming through the Peruvian peaks, but the reality doesn't always measure up to the romance.
They will offer grand, sweeping vistas but unless you splash out on exclusive first class tickets you'll have to keep one eye on the inside of the carriage.
There are generally three classes of tickets available, although some trains are reserved for locals and others only for tourists. The basic Economico trains are almost always crowded and notoriously thick with thieves so make sure to keep a close eye on your things. The more expensive services offer waiters, restaurant carriages and increased security.
(The backpacker train to Machu Picchu)
No matter which train you choose don't expect a smooth ride. Rigid carriages and rugged terrain mean a train trip is often much slower and bumpier than it's bus equivalent. Poorly maintained rails in some sections lead to quite severe rocking from side to side. Soothing for some, nauseating for others and terrifying on the steep switchbacks traversing the mountains.
Train travel in Peru is a bit of a novelty, sold as an experience rather than a practicality (excluding passage in and out of Aguas Calientes). It's worth trying out but don't rely on rail as a big part of your travel plans.
Peru discount airlines
If you get sick of schlepping overland you can always take to the sky. Domestic flights are growing in popularity with Peruvians, which results in more competition and better prices for you. International flights within South America remain prohibitively pricey for most locals.
Flying domestically is still significantly more expensive than land travel but also vastly more convenient. Sailing over the imposing Andes and the thick jungle puts Lima within two hours of all of Peru's major cities.
The scope of Peru's landscape is inspiring from the wing as well, although you'll miss some of that land-dwelling detail.
Airlines seem to pop up and disappear in the blink of an eye in Peru but there are a few stalwarts. In most cases it's best to stick to these reliable carriers: LAN Peru, Taca, Star Peru and Peruvian Airlines.
The Peruvian government has ramped up controls on the aviation industry with a few highly publicised crackdowns. However oversight is inconsistent and many of the planes are poorly maintained while pilots are overworked and under pressure to cut costs.
Companies are known to simply change their name and continue about their business after incidents or crashes so do a little research before signing up with smaller airlines.
Weather conditions are a factor, especially on smaller planes and flights to the jungle. As well as being cancelled or delayed, flights are sometimes brought forward in an attempt to outrun Mother Nature. Make sure you confirm your booking a couple of days before your flight and keep checking for updates.
Most airports will impose a tax on both domestic and international departures. As of October 2010 these are increasingly included in the ticket price but check your price breakdown. If it's not included not it has to be paid in cash (USD or Soles) so make sure you don't ditch all your dosh before checking in.
Peru by water
Boat is often the easiest way to negotiate Peru's overgrown north. The popular jungle city of Iquitos is only accessible by boat or plane and offers plenty of river faring options.
If you're travelling the main routes along the Amazon you'll find both fast and slow boats leaving regularly.
If you plan to continue on to Colombia or Brazil the more powerful, more expensive ferries will get you to the three-way border at Leticia in around 8 hours. If you have a little time up your sleeve you can jump on board a banana boat and meander down the river for a few days. Don't forget to bring your own hammock.
If you want to explore some of the smaller tributaries and side streams there are plenty of organised jungle tours available. If you'd prefer something a little less rigid you can quite easily and cheaply hire a motorised canoe and driver. Setting off by yourself is a bad idea. Travelling by boat is dangerous for anyone who doesn't know the river.
The heat and mosquitos can be oppressive in the jungle so make sure to drink lots of water (bottled, boiled or purified) and apply plenty of strong insect repellent.
Lake Titicaca is the other centre of aquatic travel in Peru. There are tonnes of boats to take you out to the lake's islands and you can shop around for the best price. Try and have a look at the boat before you buy your tickets though. Some of the boats barely manage to limp out to the islands and back. You don't want to have to crowd into the back, enveloped in choking fumes in order to lift the prow and make any sort of progress. It's worth shelling out a few extra dollars to drastically cut your travel time.
Traveling by boat between the Peruvian and Bolivian sides of the lake isn't recommended. The customs offices are based around the bridge at the border town of Desaguadero and bypassing the bridge muddies the process a little.
There is one expensive catamaran cruise that has an arrangement with the customs officials and lets you fill out your papers on board. If you manage to convince one of the smaller tour companies to attempt the crossing, don't be surprised if you're swamped by border patrol boats.
On the other hand, the border at Desaguadero is busy at the best of times and you can often get caught in long lines of tour buses. Inexplicable closures and protests also plague the border.
In May 2011 anti-mining demonstrations blocked the highway to the border, forcing tourists to walk the remaining 12km to Bolivia, which often included a shakedown by the protesters. Boat was the only other option, until protests also forced the closure of Puno's port.
Driving in Peru
A car can make it a lot easier to reach some of Peru's remote destinations and cruising the Panamerican Highway is a pleasure. However bad roads, bad drivers and bandits can outweigh the benefits.
If you plan on driving long stretches in Peru you should have a decent grasp of Spanish. There are intermittent security and anti-narcotic checkpoints which can be difficult to negotiate in English. Carloads of foreigners sometimes arouse suspicions, especially near the Colombian border and can be subjected to very thorough searches. This can be intimidating if you don't understand what's going on but as long as you're polite, cooperative and not carrying any contraband you will be sent on your way.
Fuel is cheap here but it's best to go for the more expensive high octane pumps. They are cleaner and kinder to your engine. You should carry plenty of food and water as well as spare parts, tyres and perhaps even a tent. A breakdown in the wrong part of Peru could see you stranded for days.
Highway bandits are known to target hire cars and traveling after dark is discouraged.
Thieves may try and trick you into pulling over before robbing you. Don't stop on isolated stretches of road if it can be avoided. Don't leave anything of value in the car when you park and lock as much as you can fit in the boot.
If you feel threatened at an intersection or traffic light don't wait for something to happen. You'll actually fit in with Peru's drivers if you zoom off unexpectedly. What few traffic signals there are in Peru are vaguely respected at best.
Steer well clear of the traffic nightmare that is Lima. It takes the Lima locals years to master the bumping, jostling madness and with all your preconceived notions about lanes, road signs and braking for pedestrians you won't stand a chance.
(Welcome to Lima. Please keep to the.... oh never mind.)
No Comments
Sign up for the latest news, deals & opportunities.