Areas to Avoid in the Philippines
While most of the Philippines is friendly and beautiful, there are areas that are unsafe. Of course you want to stay safe, so take a quick look through this list of places to avoid, and make your visit to The Philippines safe and fun.
Military Risk
The military is an ever-present force in the Philippines, due mainly to the high risk of terrorism. Even when a ceasefire has been called, violence could flare up again at any moment, without warning. So, regardless of the current state of affairs during your stay, it's best to avoid these areas altogether.
Terrorism
Terrorism is perhaps the biggest threat to tourist safety in the Philippines and continues to be an increasing and ongoing problem.
The whole of the far south is a no-go zone: The areas of Mindanao, the Sulu Archipelago and the Zamboanga Peninsula are all considered extremely dangerous and travelers are advised not to go there. The terrorist group Moro Islamic Liberation Front (MILF) has been blamed for a numerous violent incidents, kidnapping, and frequent clashes with the Filipino security forces.
Spinoff terrorist groups, like the Abu Sayyaf Group and Jema'ah Islamiyah, have broken away from MILF and are particularly dangerous. They are responsible for bombings which have resulted in property damage, injury and death. The more rural areas of the country, including the island of Luzon to the north, should be avoided as they have seen increased presence of the terrorist organization The New People's Army (NPA).
Over the past few years, terrorist acts involving explosive devices in North Cotabato Province, Basilan, Isabela City, Jolo, Cotabato City, Makati and the Zamboanga airport have collectively resulted in the deaths of 41 people and severe injury to well over a hundred others. Most of these bombings took place on public transportation, such as buses, and in crowded locations like restaurants and cathedrals.
The unpredictability of terrorist acts makes them that much more dangerous, so the best way to avoid becoming a victim is to steer clear of the locations where they are more likely to occur.
Kidnap Risk to Travellers
The risk of kidnap is especially hazardous for tourists because the terror groups target foreigners for the high profile publicity - and the high ransom they can obtain from relatively wealthy families. Thankfully, these crimes are not widespread. The following locations carry a higher risk of kidnapping and should be avoided:
Sarangani Province
North Cotabato Province
South Cotabato Province
General Santos City
Sultan Kudarat Province
Lanao del Sur Province
Lanao del Norte Province
Iligan City
Pangutaran Island
Additionally, several foreigners have been captured in Zamboanga City, Pagadian City, Patikul and Jolo in recent years.
The victims range from Philippines nationals to Red Cross workers to television crews. An Irish priest and a wildlife photographer are among other kidnap victims proving that anyone could potentially be at risk if they are traveling within these danger zones.
Again, like terrorism, kidnappings are difficult to predict and therefore can be challenging to avoid. Your best bet is to travel in groups and stay away from areas that have seen an increase in recent kidnapping incidents. There are plenty of beautiful locations within the Philippines to see and explore without having to venture into these troubled places.
Is The Philippines Danegrous?
As a whole, the Philippines is a lovely place to visit with minimal risk of crime or danger. There are, however, locations within the country in which the risk of harm to foreigners is heightened and therefore should be avoided. Just know what areas to avoid and stick to the places that are not as dangerous and you will be able to experience the beauty of the Philippines without incident.
33 Comments
I have been to the Philippines many times. I have a two and half years old son there. He is in Aurora. The most problem I have had is with money changers trying to rip me off. They assume a foreigner is afraid. I kicked a money changers ass and his accomplices ass right in the street in Malate. The people there applauded me and even the police just laughed. A vender gave me pork on a stick. I have been to many places on Luzon, Cebu, Mindanao and Negros Occidental. Every now and then a taxi will try to get over on you. But just stand firm and you will be O.K. I love going to the Philippines and I like the excitement of going where you're suppose not to go. Kidnap me, I have a lesson to teach you. Randy Barbour

is IPIL, ZAMBOANGA SIBUGAY, PHILIPPINES safe?

A guy I know told me he went in Zamboanga. There was a bunch of teenagers who were running after him with knives and machetes. I`m not making that up. Avoid Zamboanga at many cost.

zamboanga is a safe place, I don't understand why people kept on saying that zamboanga is not safe place to go? have you been here?

Zamboanga is a safe place indeed when talking about kidnaping and other dangerous stuffs, Just because of a siege the reputation had been damaged. Zamboanga City is a really beautiful place to live in. It is known as the City of Flowers. And there are many wonderful spots here. It hurts in the part of every Zamboanguenos that people are advicing the tourists not to visit here. MNLF are to be avoided and not Zamboanga City.. This City is innocent. just stating though #AribaZamboanga

There are no safe places on this rock we call earth . Having said that , use common sense and always be aware of your surroundings . If your to scared go out in your back yard and find a rock to crawl under. Because the terrorist won. There is one thing I know for sure none of us are getting out alive so relax and enjoy the ride. Its not like you can stop this rock and get off anyway.right.

I have been to Iligan city 8 times and will be there again in a month and have never had any problems. I have always been treated like gold. just keep your wits about you and be careful and keep someone that lives there close to you and you will be fine. It's a lot more dangerous in the big cities of the US then it is in Iligan. just my humble experienced opinion.

Is it really any more dangerous than any major city in the US or Great Britain?
I have walked around streets and city centers of places like London, Manchester and Liverpool and I have witnessed some bad shit going on.

Hi traveling to Philippines in two weeks. Supposed to go to Pagadian city. Is it dangerous there. I will be meeting a resident in manila and traveling to Pagadian. Any help would be appreciated.
Nate

Follow your countries guidelines do not go chasing girls in the south as you will have future problems the kidnappers have lookouts in the city and province looking for high wealth individuals and they do not know your skint and you can get kidnapped and a the drop of a hat Abu Sayf have you on a boat to Sulu. If your looking for a girl say on the dating sites find one in Bohol or further North not Mindanao. If your going on holiday go to Boracay it is safer and beautiful white sand take your new friend their.

Hello,
I am moving full time to Mindanao, a small village not far from Dipolog, I have been there many times and NEVER had any problems at all. Matter of fact people are far more friendly than my home now in Miami Florida.
I love to take road trips and would like to drive all over Mindanao. Where are the places I should avoid?
My wife is Filipino and will always be with me.
thanks in advance
Fred

Hello, me and my friend (two 22 year old girls) are looking to travel around the philappines this summer. Just wanted to know if it is safe and places to really avoid. Wanted to go to Manila, Palawan, mindora and Luzon. Thanks

Is Olongapo a safe place?

anyone been to tucurong city and surrounding villages? is it safe? ill be staying with a Filipino family.

please avoid Zamboanga,Sultan Kudarat and Cotabato.In Maguindanao,the safest places for foreigners to enjoy our beaches are Davao city(enjoy Samal Island), Cagayan de Oro city and from Cagayan de Oro go to Camiguin Island by boat(30 mins trip).I want to highly recommend Boracay(1.White beach-nightlife/bars/resto, 2. Bulabog beach-watersports, 3.Puka beach-quiet,peaceful atmosphere).Then Palawan(you can choose Coron,El Nido ,or Puerto Princesa).You can also check Cebu and you can take a ferry from Cebu to Bohol..You can also go to Puerto Galera,Mindoro(choose Sabang for diving/watersports,or Whitebeach for bars/resto.In Manila go to JAM busliner located at Taft Buendia cost P170 up to Batangas pier. Batangas pier to Puerto Galera pier is P250 plus environmental fee P100. If you will choose Father & Sons ferry,they have a free shuttle/van waiting in Puerto Galera pier to bring you in Whitebeach.
My husband is foreigner.I never gamble his safety.We just stay in Davao and asked my family from Sultan Kudarat to travel in Davao to get together and have a good time

Darcy you will be fine. Try not to stay in Manila too long as there are too many other places to see. Palawan, Mindoro and Luzon are all beautiful. Try traveling the Zambales coastline and also head up to Baguio and the Ifugao terraces.

Dude Olongapo is safe - just be respectful to the locals and learn some tagalog! Maybe just stay off Suzuki Beach, Barretto after dark

Ingat kayo

davao city is safe to foreigners if your looking for beaches davao city is the place, baguio city and pangasinan also are safe places to go...

Try to include Dahilayan Bukidnon if you have in your itinerary places like Cagayan De Oro or Davao. Dahilayan has an EcoFarm a very relaxing place for everybody and also those with their families, a safe haven away from the busy cities...

Try to include Dahilayan Bukidnon if you have in your itinerary places like Cagayan De Oro or Davao. Dahilayan has an EcoFarm a very relaxing place for everybody and also those with their families, a safe haven away from the busy cities...

I have been Travelling regularly to Mindanao for the last 7 years and have never had any problems. Just use common sense and avoid known trouble spots. I have spent time at all the usual places and some not so usual including Camiguin,Bohol,Siargao Island, Siquijor,Davao etc.
On my next trip I have been invited to the General Santos area by a very good friend.Normally I would jump at the chance of visiting somewhere new but in view of the recent problems in that area even I am a little wary of the trip.Any advice from locals there would be appreciated

I am a retired missionary, visiting labason, as an America, will l be safe? vvisiting a mission there-please help! Brother Ray.. .

I will be traveling to general santos. Is it safe?

San fernando la union or san juan la union( REALLY close by each other) Is a very nice, peaceful place to travel to and it's also VERY safe! The beach is an awesome place to unwind and watch the
sunset! Poro Point is a great place to stay at, while there! CSI is the main shopping/grocery mall there. San Juan is a foreigner hit spot! It is the surfing capital of the Philippines! I'm actually born and half raised there! I was 7 when I moved to the U.S from san fernando la union! Many foreigners have enjoyed there stay in la union! Great, trustworthy, honest people!!! Many came back safe and sound!! My family is planning to go this summer! Excited for it!! :-D

I have been to Philippines numerous times and never been in trouble. I have visitied Manila (spend 2 days before returning home for shopping but dont vaste time there), Cebu area, Bohol, Puerto Galera, Palawan mostly not too far from Puerto Princesa, Dumaguete and Mindanao - mostly on the Zamboanga area from Ozamis, Tambulig, Molave, Dipolog - and of corse Boracay.
I follow a few just common simple rules: I dont get too drunk, do not draw attention to yourself, if you feel something is spooky then follow your gut feeling, respect other people, do not do around alone but get along with people you know, if trouble then walk away.
I love the Philippines and return yearly. Just use common sense and stay away from Basilan and Cotabato area. Enjoy your travel and keep on smiling even after you have returned home!

I am from General Santos City and I can assure everyone that it is safe down here.

I'm to travel to iligan city is that a safe place for an American

Hi,im from davao im proud to say thats its very safe there,u can even walk in the middle of the night without worrying something might happen to you,im here in cebu right now and i can say that its still dangerous here especially at night,all i can say davao is the best.

Dumaguete is such a peaceful city. Although there's not much anything to do but when you stroll around the city, you the most iconic sceneries. The people are really friendly, just respect the local and you'll be good. I promise it's one of the best cities of PH. Not to mention it's a desirable city for senior citizens. Thanks for reading Mate.

I went to Olongapo City and came across a black american who was working as news man and he set up gun shots to be fired for black pride. I think his name is Donnel, he is short black American born working as news reporter or news crewman. I'm not sure what channel perhaps 7 news.
I'm trying to find his name in order to put a restraining order against him. He might be of American Black Panthers . I am afraid of him and afraid to visit Olongpo City Subic again I am white.
Can you help me out.?

Warren Richard Rodwell (born June 16, 1958 [62] Homebush NSW) [63] a former soldier [64] in the Australian Army, and university English teacher,[65] grew up in Tamworth NSW [66] He was shot through the right hand when seized [67] from his home at Ipil, Zamboanga Sibugay on the island of Mindanao in the southern Philippines on December 5, 2011 [68] by Abu Sayyaf (ASG) militants.[69] Rodwell later had to have a finger amputated.[70]

The ASG threatened to behead Rodwell [71] if the original ransom demand for $US2 million was not paid.[72] Both the Philippine and Australian governments had strict policies of refusing to pay ransoms.[73] Australia formed a multi-agency task force to assist the Philippine authorities, and liaise with Rodwell's family.[74] A news blackout was imposed.[75] Filipino politicians helped negotiate the release.[76] After the payment of $AUD94,000 [77] for "board and lodging" expenses [78] by his siblings, Rodwell was released 472 days later on March 23, 2013.[79] The incumbent Australian prime minister praised the Philippines government for securing Rodwell's release. Tribute was also made to Australian officials from the Department of Foreign Affairs, the Australian Federal Police and Defence.[80] Rodwell subsequently returned to Australia.[81]

As part of the 2015 Australia Day Honours, Australian Army Lieutenant Colonel Paul Joseph Barta was awarded the Conspicuous Service Cross (CSC) for outstanding devotion to duty as the Assistant Defence Attaché Manila during the Australian whole of government response to the Rodwell kidnap for ransom (and immediately following, the devastation of Typhoon Haiyan). At the 2015 Australian Federal Police Foundation Day award ceremony in Canberra, fourteen AFP members received the Commissioners' Group Citation for Conspicuous Conduct for their work in support of the Philippine National Police and Australian Government efforts to release Australian man Warren Rodwell.[82]

By the end of his 15 months as a hostage in the Autonomous Region in Muslim Mindanao, Rodwell had lost about 30 kilograms in weight due to starvation,[83] His biography 472 Days Captive of the Abu Sayyaf - The Survival of Australian Warren Rodwell by independent researcher Dr Robert (Bob) East was published by Cambridge Scholars Publishing, United Kingdom (2015) ISBN 1-4438-7058-7 [84]

In January 2015, Mindanao Examiner newspaper reported the arrest of Barahama Ali [85] kidnap gang sub-leaders linked to the kidnapping of Warren Rodwell, who was seized by at least 5 gunmen (disguised as policemen), and eventually handed over or sold by the kidnappers to the Abu Sayyaf in Basilan province.[86]

In May 2015, ex-Philippine National Police (PNP) officer Jun A. Malban was arrested in Kota Kinabalu Malaysia for the crime of "Kidnapping for Ransom" after Rodwell identified him as the negotiator/spokesperson of the Abu Sayyaf Group during his captivity. Further PNP investigation revealed that Malban is the cousin of Abu Sayyaf leaders Khair Mundos and Borhan Mundos. The director of the Anti-Kidnapping Group (AKG) stated that Malban's arrest resulted from close coordination by the PNP, National Bureau of Investigation (Philippines) and Presidential Anti-Organized Crime Commission with the Malaysian counterparts and through Interpol.[87]

Darcy,

Ologapo City is safe. Further north in Iba along the South China Sea is safe and magnificent country. I was a Peace Corps volunteer in Iba for two years, 2006-2008. I traveled by bus to Olongapo often for staff meetings. Subic is safe. Use common sense anywhere in the world. Be polite and respectful, like you'd want to be treated. Of course, there are disreputable people anywhere. But most people in the Philippines are friendly and like Americans. When I was there i was in my fifties, white, female working on business start-up and building water systems, usually traveled alone for work. Although culturally women usually travel, at a minimum, in pairs. A word to the wise.

Our State Department suggests avoiding Mindanao because of political/military concerns.

Is solana tuguegarao city is safe?for studying purpose in phillipines

How about Baguio city, I might take a trip there and Cebu City too. How about bribes I hear about in the Philippines ? Thanks in advance
Shareable Snippet: Want to stay safe? Take a quick look through this list of places to avoid.
You might also like
12/5/2014 - Travellers to the Philippines eastern seabord should prepare for the arrival of a super typhoon.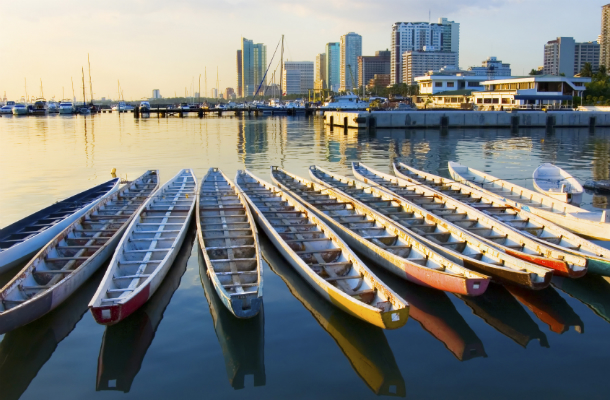 This "undiscovered" gem of Southeast Asia is a beauty! The Philippines is vibrant, full of life and diverse from throbbing metropolises to white sand beaches.

Another late season, severe typhoon is bearing down on the east Asia region.